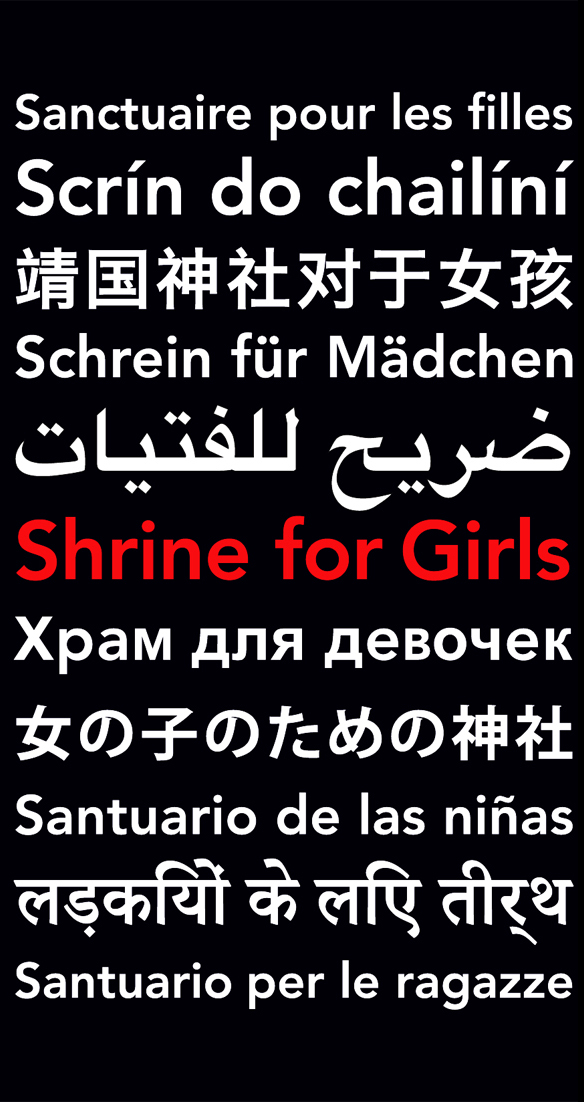 ---
About
Shrine For Girls is a series of site-specific sculptural installations in different cities around the world created by artist Patricia Cronin, reflecting on the global plight of exploited women and girls. Originally conceived for the 2015 Venice Biennale in Venice, Italy, the show continues on an international tour including the United States, India, Ireland and Nigeria.
---
Exhibition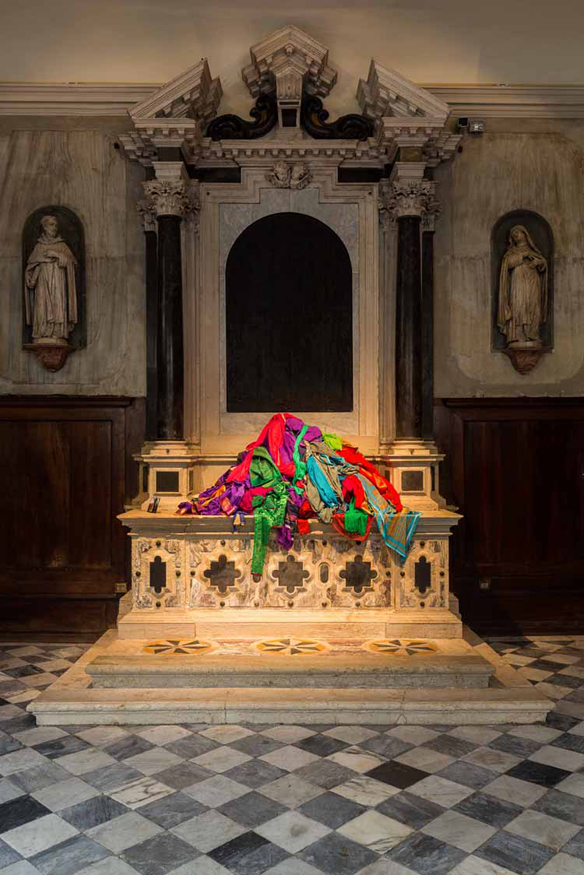 Photo credit: Mark Blower
The first version, Shrine For Girls, Venice is a solo Collateral Event of the 56th International Art Exhibition - la Biennale di Venezia 2015.
Public dates: May 9 - November 22 2015
Open Daily 10 am - 6pm, Closed Monday
Preview days: May 6 - 8, 2015
Chiesa di San Gallo, Campo San Gallo
Curator: Ludovico Pratesi
Presented by: Brooklyn Rail Curatorial Projects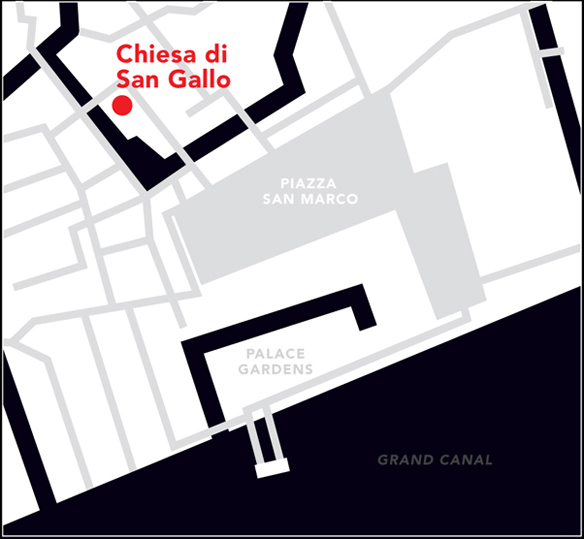 Although the United Nations passed the Universal Declaration of Human Rights in 1948, women and girls around the world continue to be among the most vulnerable members of our global society. Often facing violence, repression, and enforced ignorance, this young female populace is subjected to a horrifying existence on earth.
Inside the sixteenth-century Church of San Gallo, New York-based conceptual artist Patricia Cronin has created a shrine in their honor. For over two decades, critically acclaimed artist Patricia Cronin has created compelling works, many with social justice themes focusing on gender. Here, she has gathered hundreds of girls clothes from around the world and arranged them on three stone altars to act as relics of these young martyrs. Commemorating their spirit, this dramatic site-specific installation is a meditation on the incalculable loss of unrealized potential and hopelessness in the face of unfathomable human cruelty; juxtaposed against the obligation and mission we have as citizens of the world to combat this prejudice.
The central altar exhibits brightly colored saris worn by girls in India, three of who were recently gang raped, murdered and left to hang from trees. The left altar displays hijabs representing the 276 schoolgirls kidnapped by Boko Haram in Nigeria. And the third altar presents a pile of aprons & uniforms symbolizing those worn by girls at the Magdalene Asylums and Laundries, forced labor institutions for young women without options in Ireland, the United Kingdom and America as recently as 1996.
Shrines, part of every major religion's practice, provide a space for contemplation, petition and rituals of remembrance. In this exhibition, dramatically illuminated mounds of their clothing are elevated to the status of art to bring awareness to this urgent crisis, while providing a space to reflect and, hopefully, inspire viewers into action. One framed photograph of each of these three tragic events will accompany this installation, which hopes to propose a new and reflective dialogue between gender, memory and justice.
The installation is located at the Chiesa di San Gallo, a historic-site destination near the heart of Venetian culture and society, Piazza San Marco. Built in 1581 as an oratory for the Orseolo family hospice, it was enlarged to its present form in 1703. Long deconsecrated, this church - the smallest in the city of Venice, features elaborate stone altars, Corinthian columns, wood panel walls and a checkerboard-patterned marble floor.
---
Images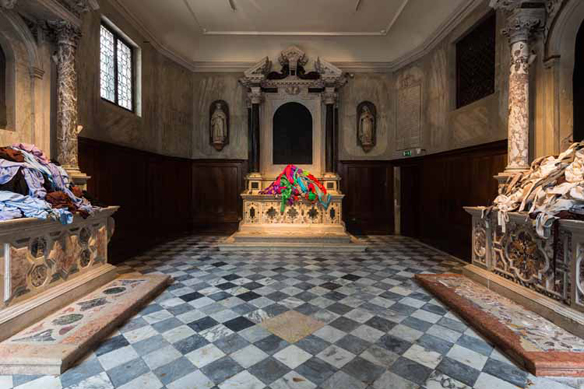 Shrine for Girls, Venice
La Biennale di Venezia - 56th International Art Exhibition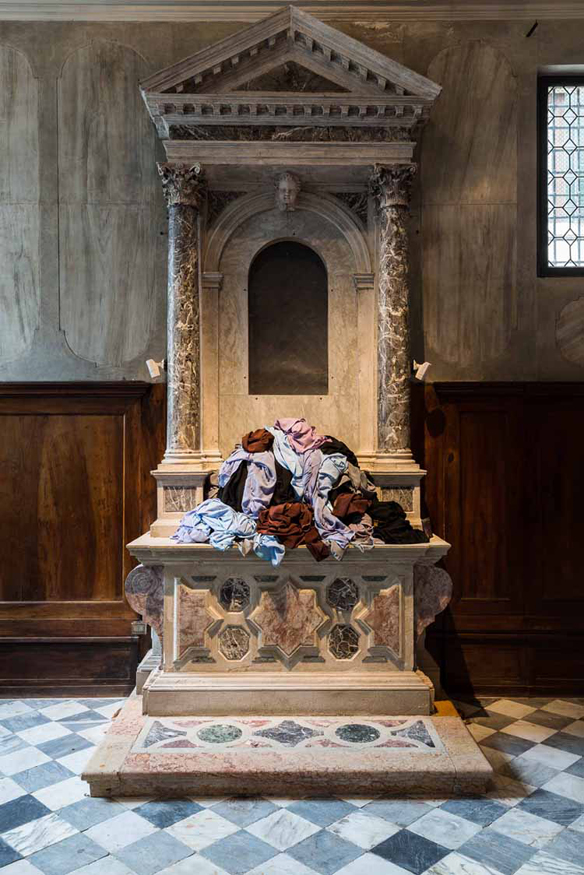 Shrine For Girls (Chibok), hijabs and photograph, 2015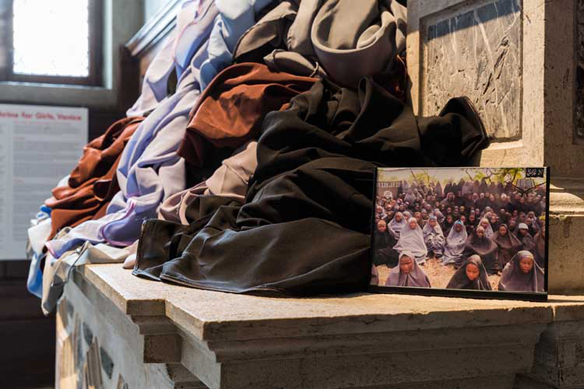 Shrine For Girls (Chibok), hijabs and photograph, 2015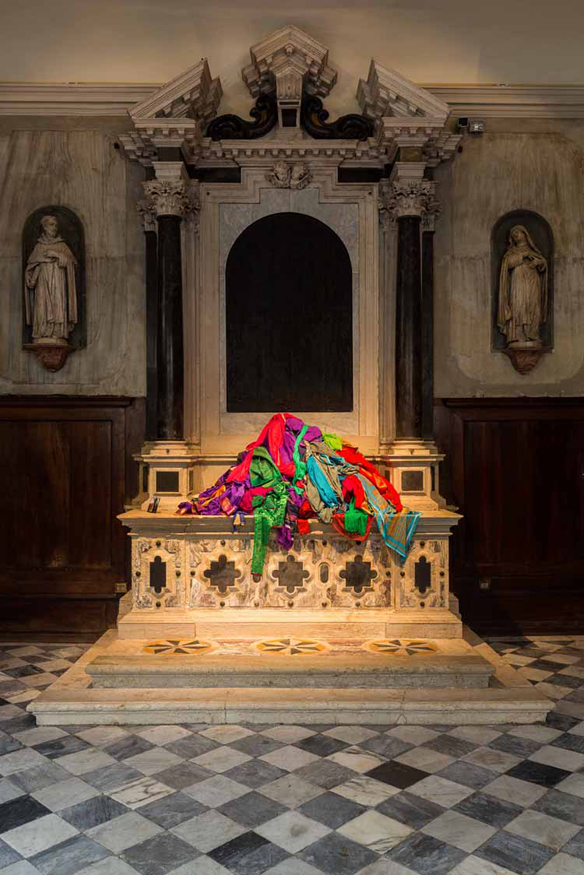 Shrine For Girls (Uttar Pradesh), saris and photograph, 2015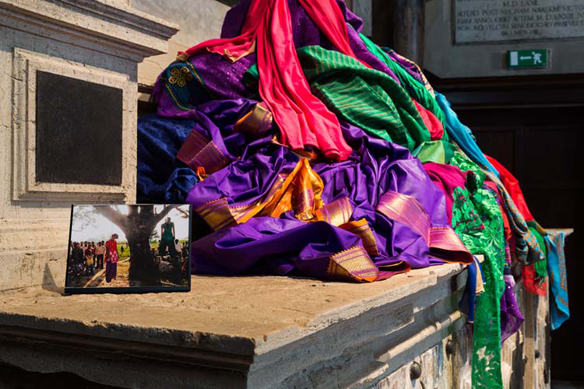 Shrine For Girls (Uttar Pradesh), saris and photograph, 2015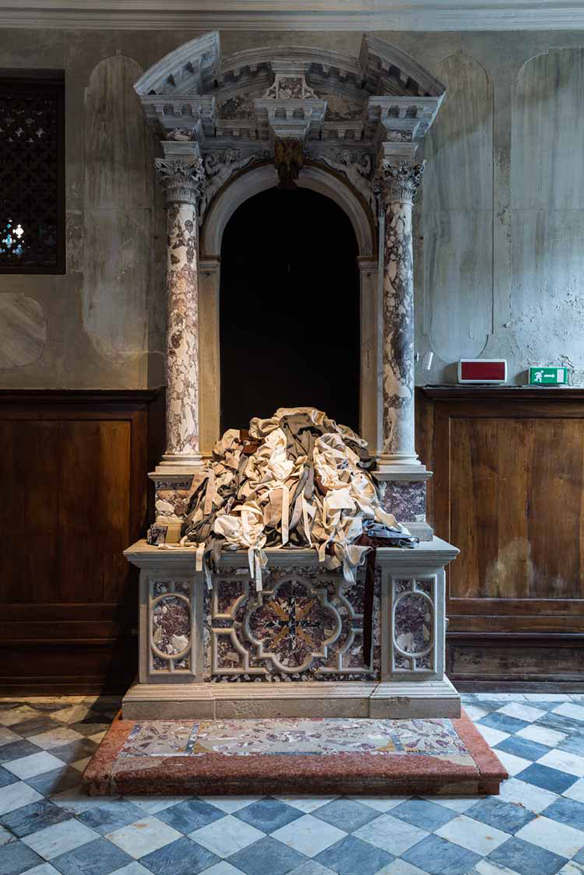 Shrine For Girls (United Kingdom), aprons and photograph, 2015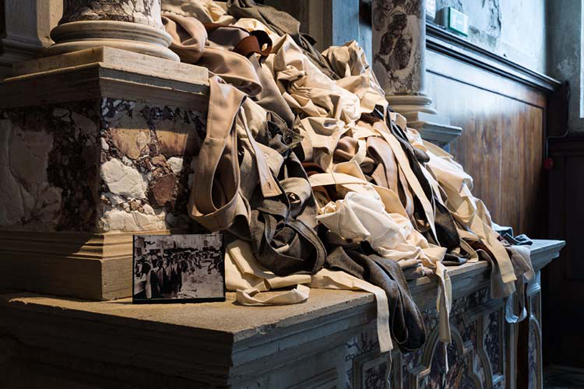 Shrine For Girls (United Kingdom), aprons and photograph, 2015
---
Artist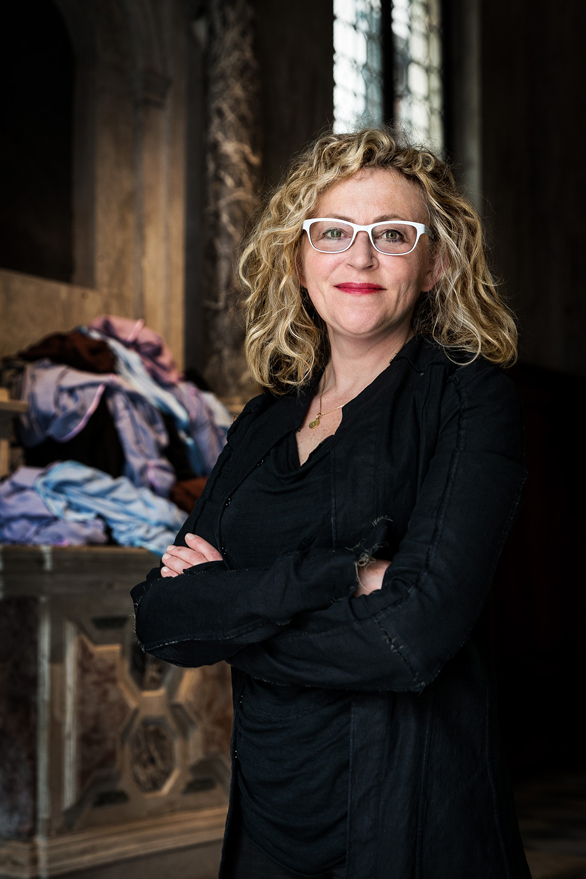 Photo Credit : Mark Blower
Patricia Cronin is a New York based conceptual visual artist. Since the early-90's, Cronin has garnered international attention for her photographs, paintings and sculptures that address contemporary human rights issues of gender and sexuality. Slyly reinvigorating traditional images and forms with social justice themes, her critically acclaimed statue, "Memorial To A Marriage," a 3 ton Carrara marble mortuary sculpture of her life partner and herself was made before gay marriage was legal in the U.S., and has been exhibited widely across the country and abroad. Cronin began her career working for the Anne Frank Stichting installing the traveling exhibition "Anne Frank in the World" in Europe and the U.S.
Her work has been presented in solo exhibitions at museums and galleries; including American Academy in Rome, Italy, Brooklyn Museum, Deitch Projects, Brent Sikkema, Woodlawn Cemetery, New York, Tulane University, New Orleans, LA, and ConnerSmith, Washington, DC. In 2013 she was honored as the only contemporary artist ever invited to have a one-person exhibition at the Capitoline Museum's converted powerplant, Centrale Montemartini Museo in Rome, Italy.
Important international museum shows include: Massimiliano Gioni's NYC 1993: Experimental, Jet Set, Trash and No Star, New Museum, New York; Sean Glashan's Sh(OUT): Contemporary Art and Human Rights, Gallery of Modern Art, Glasgow; and Frank Wagner's Just Different, Cobra Museum, Amsterdam.
Her work is in numerous permanent public collections including; Deutsche Bank, New York; National Gallery of Art, Corcoran Collection, Washington DC; Perez Art Museum Miami, FL; Gallery of Modern Art; and Kelvingrove Art Galleries and Museum, Glasgow, and many private collections including David Zwirner and Chuck Close.
She is the recipient of numerous awards, including the prestigious Rome Prize in Visual Art from the American Academy in Rome, where she is now a trustee, an Andy Warhol Foundation Grant, an Anonymous Was A Woman Award, a Civitella Ranieri Foundation Fellowship, a Louis Comfort Tiffany Foundation Grant, and two Pollock-Krasner Foundation Grants, among others.
A compelling speaker, Cronin has lectured internationally, including: Smithsonian Museum, Museum of Modern Art, Victoria and Albert Museum and Christies. She is also the author of two books; Harriet Hosmer: Lost and Found, A Catalogue Raisonné (Milan: Charta, 2009) and The Zenobia Scandal: A Meditation on Male Jealousy (New York: Zing Books, 2013).
She received a BFA from Rhode Island College, was awarded a Battell Stoeckel Fellowship at Yale University, studied at Skowhegan School of Art and received a MFA from Brooklyn College. She has been on the graduate faculty at both Columbia University and Yale University, and is Professor of Art at Brooklyn College of The City University of New York since 2003.
Cronin lives and works in New York City.

CV download
---
Press
For press images and inquiries, please contact Melissa Emery : melissa@suttonpr.com . Melissa Emery, Account Manager, has led a number of international campaigns and events for clients including the David Roberts Art Foundation, Absolut Art Bureau, Davidoff Art Initiative and the Pavilion of Chile at the 2013 Venice Biennale. Before joining Sutton PR, Melissa was Press Officer and Publications Deputy Editor at The Museum of Everything. Prior to this, she worked as publications and projects assistant at Tate Britain and Tate Media, and managed a commercial gallery space, Museum 52, London/New York from 2005 - 2009. She graduated in 2005 from University College London with a BA Honors degree in History of Art and Italian.
For press to download images click here.
To view recent press, click on these links :
"ARR shrines at Venice Biennale"
American Acedemy In Rome Magazine | Spring 2015
"Artist Patricia Cronin Dedicates Altars to Suffering Girls at Venice Biennale"
Artnet | April 7 2015
"Heartbreaking 'Shrine for Girls' Pays Tribute To Young Female Martyrs Around The World"
The Huffinton Post | April 14 2015
"GliArtivisti"
Marie Claire Italia | May 2015
"Venice Biennale Guide 2015"
The Art Newspaper | May 1 2015
"Venice Biennale 2015: Why This Year Could Be More Political Than the General Election"
Independent | May 1 2015
"Patricia Cronin and the Body Politic: the American Artist on the Essential Role of Art in Feminism"
Financial Times | May 1 2015
"Beyond the Biennale: 21 Top Shows to See Around Venice"
Artsy | May 3 2015
"Patricia Cronin Remembers the Repressed with Shrine for Girls"
Designboom | May 4 2015
"Opening BiennalArte in diretta live con Instagram"
La Nuova | May 4 2015
"Your Concise Guide to the 2015 Venice Biennale"
Hyperallergic | May 5 2015
"Venice Biennale Satellite Exhibitions: Following the Political Trail"
Artlyst | May 7 2015
"A Shrine for Girls, Installation by Patricia Cronin"
Velvet Park | May 7 2015
"Venice Biennale Expands Its Scope"
The International New York Times | May 8 2015
"Die Kunstler GebenSichPolitisch"
NZZ am Sonntag | May 10 2015
"Venice Highlights 2015: Pavilions and Collateral Events"
Art In America | May 11 2015
"Venice Biennale: Gas Masks, Marx, and Cigarettes in the Wrong Places"
CNN | May 13 2015
"Apron entrepreneur's work displaye at Venice Biennale show in American artist's shrine"
South Wales Post | May 13 2015
"Venice Biennial 2015 Review"
The Triad | May 14 2015
"Violence Against Girls and Women Remembered at Venice Biennale"
Artcentron | May 15 2015
"More Marx than Dante"
Spectator | May 16 2015
"Poignant Shrine for Girls in Tiny Venice Church Speaks for Those Who Can't"
Let My People Show | May 21 2015
"From Grief to Action: Patricia Cronin on Her 'Shrine for Girls'"
Hyperallergic | May 23 2015
"IFashion APP"
Modern Weekly | May 25 2015
"Patricia Cronin, Shrine for Girls, La Biennale di Venezia, Venice"
Aesthetica | May 27 2015
"The Art of Accumulation at a New Orleans Shrine to the Plague Saint"
Hyperallergic | June 3 2015
"L'arte moltiplica l'arte nella Biennale segreta"
il mattino | June 2 2015
"L'Altra Venezia In Tre Sedi Fuori Dal Coro"
Exibart | June 7 2015
"Patricia Cronin's 'Shrine for Girls' Venice Biennale"
Litro | June 9 2015
"American artist Patricia Cronin on creating 'Shrine for Girls'"
The Indian Express | June 14 2015
"Mickalene Thomas's Adventures in Italy"
The New York Times Style Review | June 17 2015
"Personal but Highly Political Highlights from the 2015 Venice Biennale"
Hyperallergic | June 22 2015
"Patricia Cronin: 'A silent protest can be quite powerful' "
studio international | June 23 2015
"Gli abiti-denucia di Patrcia Cronin
la Repubblica | June 28 2015
"Venice Biennale: Tabish's Top 5 Collateral and Other events"
FAD Magazine | July 1 2015
"Linda Nochlin"
The Brooklyn Rail | July 13 2015
Se il convento si trasforma in un museo"
L'Espresso | August 6 2015
"Viaggio tra le chiese 'proibite' di Venezia"
IO donna | September 8 2015
"Shrine for Girls : Patricia Cronin + Bradley Rubenstein"
Culture Catch | October 14 2015
"People We Love: Patricia Cronin"
Ravishly | October 19 2015
"Biennale di Venezia. Quattro mostre da vedere nel weekend"
Artribune | November 18 2015
Kunsten a kaste av seg kronen"
KUNSTforum | November 2015
"Public Art Project In Temple"
Public Art | November 2015
"Venezia collaterale"
Wall Street International | Decemeber 10 2015
"Weekend Words : 2015"
Hyperallergic | December 27 2015
"Patricia Cronin : Shrine for Girls"
Orlando Magazine | April 19 2016
"How Should Art Address Human Rights?"
The Atlantic | April 4 2017
---
Team
Shrine For Girls, Venice, solo Collateral Event in the 56th International Art Exhibition - la Biennale di Venezia
Curator
Ludovico Pratesi is one of Italy's most respected Contemporary Art Curators and has organized numerous museum and gallery exhibitions. His is currently the artistic director of Fondazione Pescheria in Pasero, Vice President of Associazione Musei Arte Contemporana Italiana, former President of AICA Italy, and Art Critic for La Repubblica newspaper. Chiara Pirozzi is the Assistant to Ludovico and an Independent Curator.
Presenting Organization
Brooklyn Rail Curatorial Projects
Founded in October 2000 and currently published 10 times annually, The Brooklyn Rail is a 501(c)(3) organization that provides an independent forum for arts, culture, and politics throughout New York City and far beyond. The journal, in addition to featuring local reporting; criticism of music, dance, film, and theater; and original fiction and poetry, covers contemporary visual art in particular depth. The Rail further fulfills its mission through their newly launched initiative Rail Curatorial Projects, which gathers the work of artists that reflect the complexity and inventiveness of the artistic and cultural landscape. Patricia Cronin: Shrine for Girls, Venice is the fourth Rail Curatorial Project, and their international debut. Brooklyn Rail Staff who coordinated the exhibition include: Phong Bui, Sara Chrisoph and Sara Roffino.
Production
Michael Hall is an independent producer of artist projects, a curator, and an artist. He has worked for the Princeton Art Museum, advised the corporate collections of Goldman Sachs and Merrill Lynch. He has been the Managing & Creative Director for The Armory Show in New York, Director of Operations for Hauser & Wirth Gallery in New York and is currently Head of Operations & Logistics for Art Basel. For Shrine For Girls, Venice, Michael is consulting on logistics and exhibition production.
pulp, ink. is a Brooklyn-based design studio founded by Beverly Joel, specializing in the design of art-related books, brochures and printed ephemera. Recent projects include books on Jasper Johns, Deborah Kass, Elaine de Kooning, Beatriz Milhazes, Kehinde Wiley, and Lynette Yiadom-Boakye. Clients include Aperture Foundation, Chronicle Books, Delmonico - Prestel, Monacelli Press, the Museum of Modern Art, the National Portrait Gallery, the Neuberger Museum of Art, Orange County Museum of Art, Pérez Art Museum Miami, Rizzoli, and the Tang Teaching Museum and Art Gallery. For Shrine For Girls, Venice, pulp, ink. Is designing all graphics.
---
Sponsors
Shrine For Girls, Venice wishes to thank the following for their generous and kind support
Major support is provided by our Lead Sponsors, The FLAG Art Foundation and The Fuhrman Family Foundation.
With the additional generous support of Agnes Gund, John and Amy Phelan, Jane and David Walentas, Arcadia Foundation, Lococo Fine Art Publisher, Stephanie Ingrassia, Chuck Close and Sienna Shields, Helen Stambler Neuberger and Jim Neuberger, Alice Zoloto-Kosmin, Marlies Verhoeven, Deborah Kass, George Rudenauer Consulting, Sara M. and Michelle Vance Waddell, Lois Plehn, Francis J. Greenburger, Debi Sonzogni and A.G. Rosen, Craig Drill, Anonymous, Martha Macks-Kahn, Elaine Gray and Anne Belluche Cronin.
Special Thanks
Annabelle's Aprons, India Sari Palace, Maktaba Dar-Us-Salam, Inc.
---
Donate
Please help bring awareness of the international importance of girls and women by supporting Shrine For Girls with your tax-deductible donation. Your generosity will ensure the success of this project.

Here are three organizations where you can get more information and make a donation.
The Gulabi Gang (from Hindi

"pink") is a group of Indian women activists responding to widespread domestic abuse and other violence against women in India. Recently they have gained international attention for taking matters into their own hands while the police and male-dominated society ignore and reinforce the plight of women in their country.
www.gulabigang.in
Justice For Magdalenes seeks to promote and represent the interests of the Magdalene women, to respectfully promote equality and seek justice for the women formerly incarcerated in Ireland's Magdalene Laundries and to seek the establishment and improvements of support as well as advisory and re-integration services provided for survivors.
www.magdalenelaundries.com
Camfed - Campaign for Female Education is an international non-profit organization tackling poverty and inequality by supporting girls to go to school and succeed, and empowering young women to step up as leaders of change. Camfed invests in girls and women in the poorest rural communities in sub-Saharan Africa, where girls face acute disadvantage, and where their empowerment is now transforming communities.
www.camfed.org
---
Catalogue
A fully illustrated catalogue accompanies the exhibition. Patricia Cronin: Shrine For Girls, Venice exhibition catalogue, published by SilvanaEditoriale (Milan) with essays by Phong Bui, Ludovico Pratesi and Maura Reilly.
---
Contact
info@shrineforgirls.org