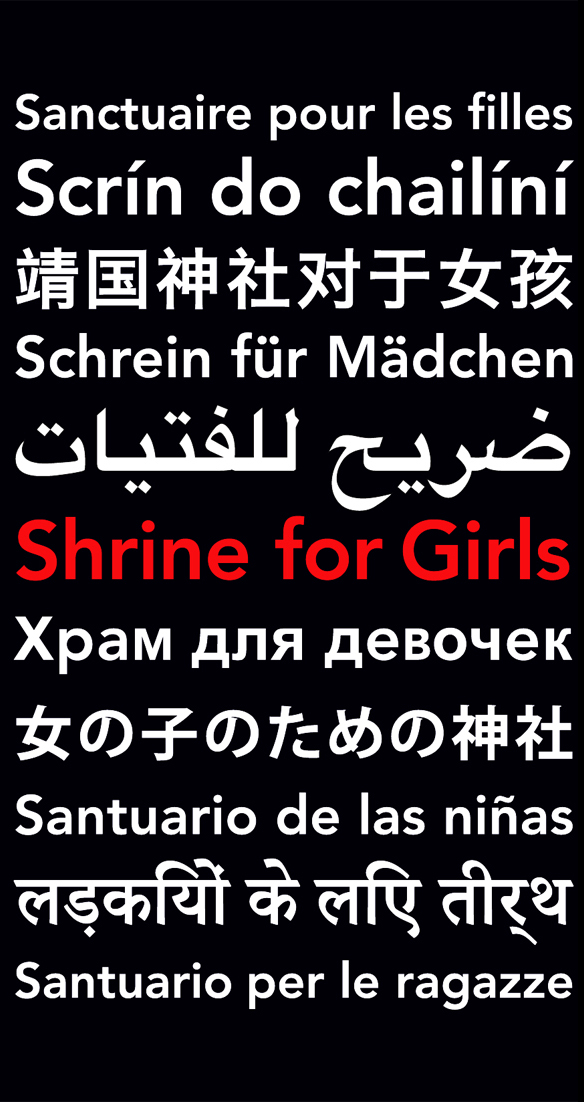 ---
About
Shrine For Girls is a series of site-specific sculptural installations in different cities around the world created by artist Patricia Cronin, reflecting on the global plight of exploited women and girls. Originally conceived for the 2015 Venice Biennale in Venice, Italy, the show continues on an international tour including the United States, India, Ireland and Nigeria.
---
Artist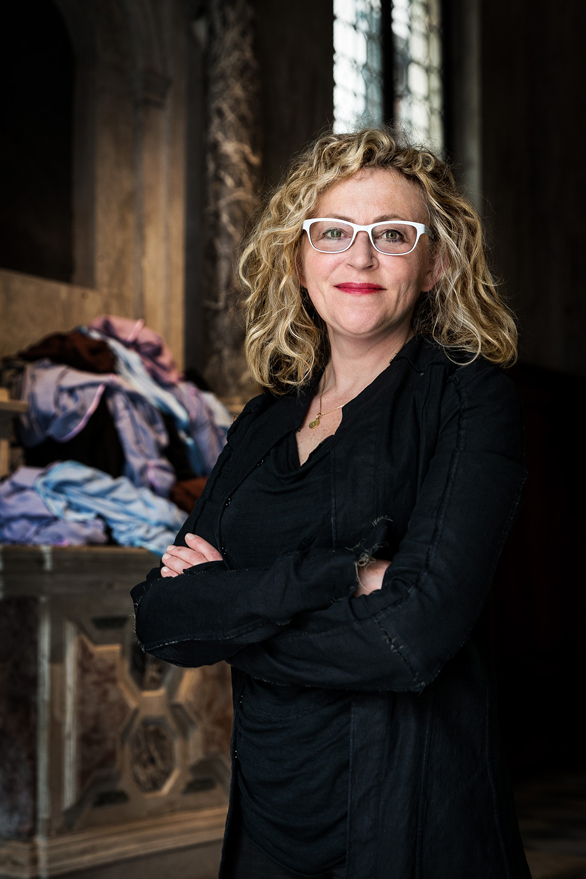 Patricia Cronin is a New York based conceptual visual artist. Since the early-90's, Cronin has garnered international attention for her photographs, paintings and sculptures that address contemporary human rights issues of gender and sexuality. Slyly reinvigorating traditional images and forms with social justice themes, her critically acclaimed statue, "Memorial To A Marriage," a 3 ton Carrara marble mortuary sculpture of her life partner and herself was made before gay marriage was legal in the U.S., and has been exhibited widely across the country and abroad. Cronin began her career working for the Anne Frank Stichting installing the traveling exhibition "Anne Frank in the World" in Europe and the U.S.
Her work has been presented in solo exhibitions at museums and galleries; including American Academy in Rome, Italy, Brooklyn Museum, Deitch Projects, Brent Sikkema, Woodlawn Cemetery, New York, Tulane University, New Orleans, LA, and ConnerSmith, Washington, DC. In 2013 she was honored as the only contemporary artist ever invited to have a one-person exhibition at the Capitoline Museum's converted powerplant, Centrale Montemartini Museo in Rome, Italy.
Important international museum shows include: Massimiliano Gioni's NYC 1993: Experimental, Jet Set, Trash and No Star, New Museum, New York; Sean Glashan's Sh(OUT): Contemporary Art and Human Rights, Gallery of Modern Art, Glasgow; and Frank Wagner's Just Different, Cobra Museum, Amsterdam.
Her work is in numerous permanent public collections including; Deutsche Bank, New York; National Gallery of Art, Corcoran Collection, Washington DC; Perez Art Museum Miami, FL; Gallery of Modern Art; and Kelvingrove Art Galleries and Museum, Glasgow, and many private collections including David Zwirner and Chuck Close.
She is the recipient of numerous awards, including the prestigious Rome Prize in Visual Art from the American Academy in Rome, where she is now a trustee, an Andy Warhol Foundation Grant, an Anonymous Was A Woman Award, a Civitella Ranieri Foundation Fellowship, a Louis Comfort Tiffany Foundation Grant, and two Pollock-Krasner Foundation Grants, among others.
A compelling speaker, Cronin has lectured internationally, including: Smithsonian Museum, Museum of Modern Art, Victoria and Albert Museum and Christies. She is also the author of two books; Harriet Hosmer: Lost and Found, A Catalogue Raisonné (Milan: Charta, 2009) and The Zenobia Scandal: A Meditation on Male Jealousy (New York: Zing Books, 2013).
She received a BFA from Rhode Island College, was awarded a Battell Stoeckel Fellowship at Yale University, studied at Skowhegan School of Art and received a MFA from Brooklyn College. She has been on the graduate faculty at both Columbia University and Yale University, and is Professor of Art at Brooklyn College of The City University of New York since 2003.
Cronin lives and works in New York City.

CV download
---
Donate
Please help bring awareness of the international importance of girls and women by supporting Shrine For Girls with your tax-deductible donation. Your generosity will ensure the success of this project.

Here are three organizations where you can get more information and make a donation.
The Gulabi Gang (from Hindi

"pink") is a group of Indian women activists responding to widespread domestic abuse and other violence against women in India. Recently they have gained international attention for taking matters into their own hands while the police and male-dominated society ignore and reinforce the plight of women in their country.
www.gulabigang.in
Justice For Magdalenes seeks to promote and represent the interests of the Magdalene women, to respectfully promote equality and seek justice for the women formerly incarcerated in Ireland's Magdalene Laundries and to seek the establishment and improvements of support as well as advisory and re-integration services provided for survivors.
www.magdalenelaundries.com
Camfed - Campaign for Female Education is an international non-profit organization tackling poverty and inequality by supporting girls to go to school and succeed, and empowering young women to step up as leaders of change. Camfed invests in girls and women in the poorest rural communities in sub-Saharan Africa, where girls face acute disadvantage, and where their empowerment is now transforming communities.
www.camfed.org
---
Catalogue
A fully illustrated catalogue accompanies the exhibition. Patricia Cronin: Shrine For Girls, Venice exhibition catalogue, published by SilvanaEditoriale (Milan) with essays by Phong Bui, Ludovico Pratesi and Maura Reilly.
---
Contact
info@shrineforgirls.org